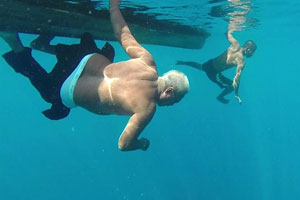 With the consumption of 56.5Kg of fish per person per year, Malaysia is considered one of the biggest fish consumer countries in the world (the world average's fish consumption is 20Kg per person per year). The Malaysian people's affection for seafood and fish led them to develop specific fishing techniques through the centuries. One of the most original Malaysian fishing techniques is performed by the 'fish listeners': they place their head underwater to listen the sound of fish banks in a way to locate them precisely.
Harun is one of the last 'fish listeners' in Malaysia specialized in croaker fishing. The croaker is a fish species particularly appreciated by the poorest people in Malaysia. Harun is 68 years old and practice fish listening technique with his son, Zuraini; he explains their fishing technique: "when you listen underwater, it is like when you look through a glass; you can see mackerels, sardines, and other types of fish. We solely look for croaker but there often are other fish species in croaker banks. It is not possible to copy our fishing technique; it requires a long initiation to learn how the waters work."
Harun has difficulties to explain exactly the type of noise made by fish; according to him, the sound is similar to the noise made by gravels thrown in the water. "They have a voice; each fish species has its specific sound. When you are a beginner, you can't make the difference yet, after a while, you are able to 'see' which type of fish it is, and where it is located and heading to. The closer you get to the fish bank, the better you can hear it."
As soon as Harun has located a fish bank, the boat comes close to him – without using its engine – and the crew throws the net to catch the fish. As he puts it: "you may think that fish is stupid but they see you coming; when they hear the boat, they flee!" Nowadays, this fishing technique is bound to disappear. Most of the fish listeners are dead or retired, or simply abandoned this way of fishing to adopt more modern fish detection's techniques.
According to statistics, Malaysia has already lost 92% of its fish resources between 1971 and 2007. This incredible loss is due to overfishing and by the use of dynamite fishing. Malaysian WWF leader, Dionysius Sharma, thinks that Malaysian waters could be completely drained of its fish populations by 2048. Fortunately, Malaysia is working hard to avoid such a tragic issue: dynamite fishing is now completely forbidden, wrongdoers face harsh penalties; and the country has created many national parks like Langkawi National Marine Park, where fishing is strictly controlled.