Mergui Archipelago Cruises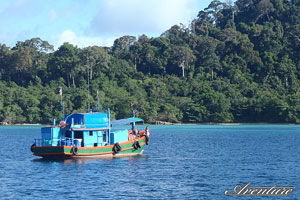 The Mergui Archipelago is in the South of Myanmar and is part of the Tanintharyi Region. It consists of more than 800 islands, varying in size from very small to hundreds of square kilometers, all lying in the Andaman Sea off the western shore of the Malay Peninsula near its landward (Northern) end where it joins the rest of Indochina. Occasionally the islands are referred to as the Pashu Islands because the Malay inhabitants are locally called Pashu.
Geologically, the islands are characterized mainly by limestone and granite. They are generally covered with thick tropical growth, including rainforest, and their shorelines are punctuated by beaches, rocky headlands, and in some places, mangrove swamps. Offshore are extensive coral reefs.
The archipelago's virtual isolation from most of mankind's influence on the natural environment has given the islands and the surrounding waters of the Andaman Sea a great diversity of flora and fauna, contributing to the region's growing popularity as a diving destination.
Southern Mergui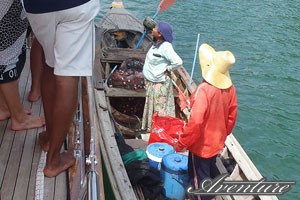 Starting from Victoria point – kawtoung – in front of Ranong on the Thai side (a 15mn boat ride from Ranong pier)
you can arrive from Phuket by private taxi, limo, or by mini-bus  to Ranong where we will organize transfer to the boat and take care of customs and immigration. You will have the opportunity to visit this lively and interesting Burmese port town.
We set sail as soon as paper work is done towards our first anchorage and a well deserved dinner and night onboard.
Next morning you can choose between jumping overboard in crystal waters and having a healthy and tasty breakfast first or just relax and prepare to enjoy your first morning in paradise.
Depending on whether you are divers or more sail and exploration oriented, we will set sails to unique diving sites or organize island flora and fauna discovery; or an ideal combination of both.
We will also meet Moken people – sea gypsies – living and fishing on their traditional wooden boats.
Actually, each day will be designed to suit your aspirations and make your journey unique and exclusive in this region, one of the last cruising paradise.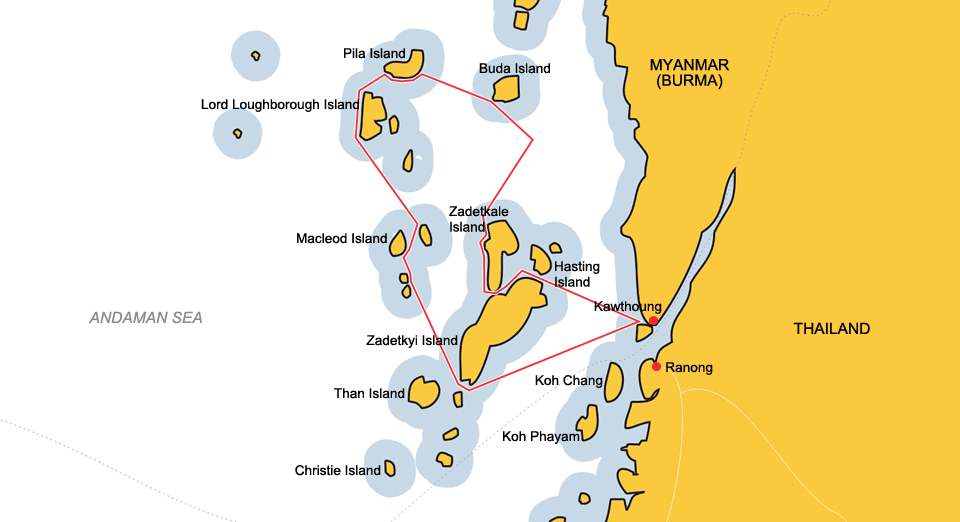 Andaman Islands Cruises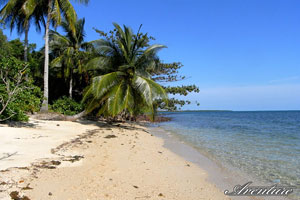 It is recorded that Marco Polo was the first official visitor to the beautiful Andaman and Nicobar islands, a tropical archipelago of 572 islands. Isolated in the Indian Ocean and little known in the western world, these islands (a territory of India) are covered by tropical rain forests and only a handful of them are inhabited. Actually, only 37 are inhabited and it is also home to several protected indigenous tribes.
Diving, snorkeling, sport fishing, surfing, rain forest exploration, great sailing, calm and relaxing time far from civilized world and back to the pure expression of nature at her best is what visitors to the Andaman can expect from a cruise aboard S/Y Aventure. Her captain and crew will pamper and guide your adventure safely in this wild environment.
The only flights to the Andaman are from India, with sometimes "not so easy" connections. Meaning you would have to spend one night on the way to the Andaman and one on return. A way to avoid this, is to hire a private flight from Bangkok, which will grant you with VIP services all the way to and from the boat.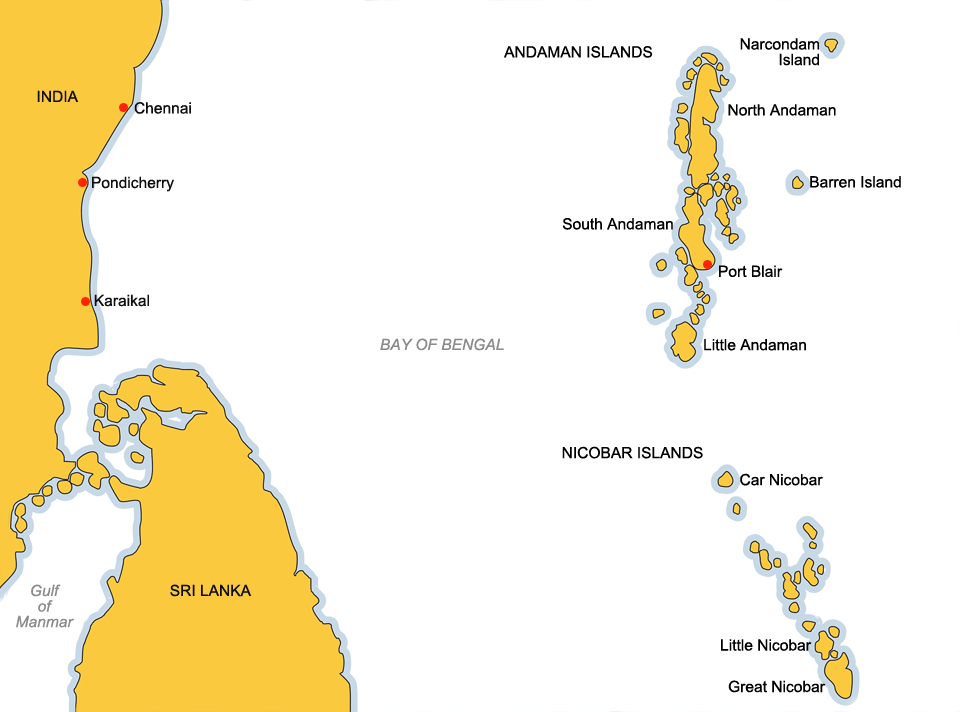 South Andaman Sea Cruises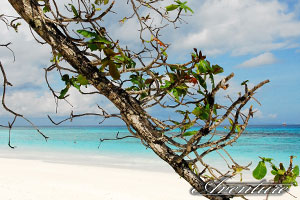 South Andaman Sea offers fantastic cruises destinations where one can immerse in a pristine and luxuriant nature visit mangroves or trek in rain forests. Whether in the waters or on land, Wild life is abundant and generous, coral reefs and fishes, around Tarutao one can spot one of the last Dugong – a mammal feeding on sea bottom « grass » as well as estuary dolphins; on shore, monkeys, boars, monitors can often be spotted strolling the beaches, while sea eagles, hornbills, and kingfishers and fruits bats at night are crossing or cruising the skies.
Discover Langkawi secluded coves, Butang Archipelago and Ko Tarutao National Maritime Park, the first and best preserved marine park in Thailand where life is truly abundant with centuries old trees, beautiful mangrove, wild pigs, Monkeys; all kind of sea and land birds join forces with the Asian cicadas to compose the soundtrack of your visit.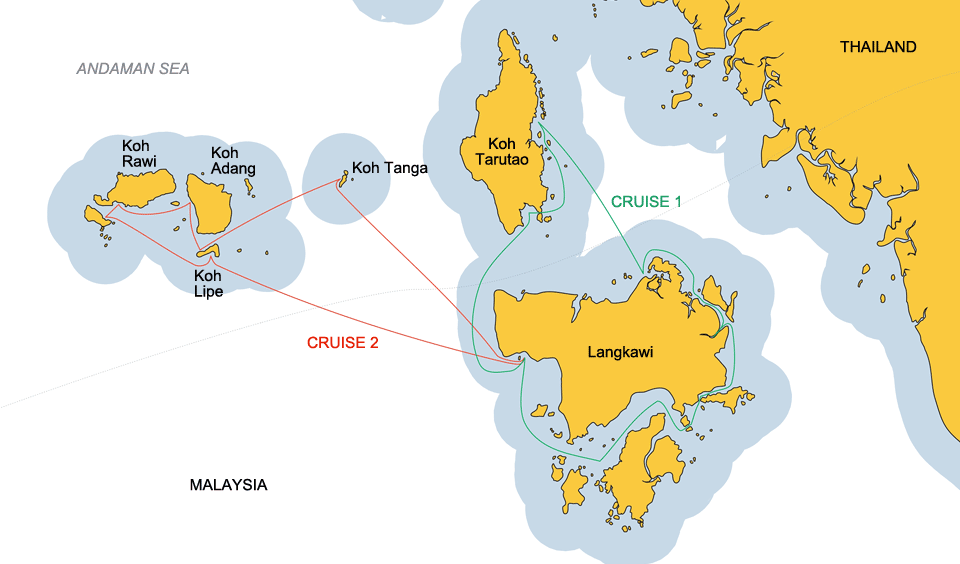 Cruise 1 -  Langkawi (LKW) - Koh Tarutao (6 days / 5 nights)
Day 1
Boarding s/y Aventure and depart from Telaga Harbor towards Ko Tarutao where we will anchor for the first night onboard.
Day 2
Sailing on Ko Tarutao eastern side discovering this big and beautiful island. Anchor for the night in one of the northern anchorage.
Day 3
Cruising down south towards Tanjung Rhu a secluded cove where one can imagine the Black Pearl and her pirates' crew hiding there.
Day 4
After a hefty breakfast and a swim we will set sails to cruise along the very interesting east LKW coast to finally get in « The Hole in The Wall » a hidden lagoon in the « middle of the land » where we will spend a fantastic night in direct contact with the surrounding nature.
Day 5
Cruise along the south east LKW coast towards Khua, where we will either anchor in the bay, or the Royal Langkawi Yacht Club. Visit of the town, shopping, duty free.
Day 6
Breakfast onboard, luggage, paper work and transfer ashore.

Cruise 2 -  Langkawi (LKW) - Butang Archipelago (5 days / 4 nights)
Day 1
Set sails from Telaga Harbor towards Ko Tanga where there is great snorkeling.
Day 2
North of Ko Lipe.
Day 3
Ko Adang, Ko rawi.
Day 4
South Ko Lipe.
Day 5
Transfer to Telaga Marina: breakfast onboard, luggage, immigration paperwork.
Each day will seem too short to enjoy the relaxation and recreational activities, swimming, snorkeling, fishing, kayaking, shore walks, exploring the jungle etc.
For 10 days or more cruises please contact us for a customized program.
From Langkawi, we can sail to Ko Rok Nok, Ko Muk, Ko Lanta, Ko Pee Pee and many others islands, as far as Chalong Bay in Phuket, there are many exiting options.
Our team will be happy to advise and assist in drafting your customized cruise. We can also give advises about all transfers (sea, land or aerial connections).