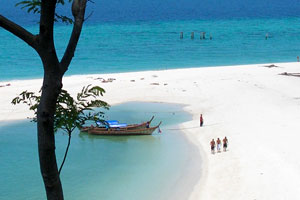 Koh Tarutao is one of our passengers' preferred destinations in the southern part of the Andaman Sea. The largest island of the Marine National Park of Tarutao belongs to Satun Province off the southern coast of Thailand. It is located only a few nautical miles away from the border with Malaysia.
Covering an area of approximately 286sqkm, Koh Tarutao features a topography similar to most of the islands in southern Thailand: the central area is mountainous and covered with luxuriant rain forest; the eastern coast hosts mangrove forest and tall limestone cliffs; and the west coast is famous for its long white sand beaches offering a perfect sanctuary to the sea turtles that come there to lay eggs from December to February. Koh Tarutao also houses a wide range of tropical animal species such as eating-crab macaque, wild pig, Calaos, kingfisher, and more that you may encounter during the exploration of the island.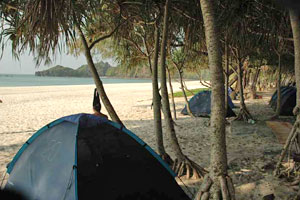 Yet, Koh Tarutao has not always been a paradise for everyone. In 1939, the political turmoil that led the Kingdom of Siam to become Thailand made necessary the setting of an isolate and scary place to keep political opponents and criminals away from Bangkok.
Koh Tarutao was chosen as the perfect place to settle a penal colony; housing mosquitoes spreading malaria, swamps infested with large crocodiles, and surrounded by waters plagued by sharks, the island of Tarutao was indeed seen by the authorities as a very convenient 'green hell' in which considered dangerous people would be imprisoned for the greater good.
Over 3,000 convicts stayed in extreme conditions on Koh Tarutao. During World War II, food and medicine brought from the continent became scarce, leading the island's inhabitants to starvation. This terrible situation pushed jailers and prisoners to associate in a way to survive: they became the worst pirates of the area! They looted and sunk about 130 ships before to be annihilated by the British military forces in 1945. The penal colony was then closed, and villagers from surrounding provinces started to peacefully colonize Koh Tarutao. Until 1972, the two main activities on the island were fishing and agriculture; then, the Thai government decided to make a Marine National Park of this splendid natural area.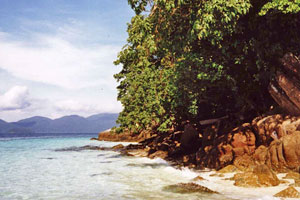 Nowadays, Koh Tarutao is uninhabited; only the rangers of the Marine National Park have a camp on the island, and a few bungalows and tents allow visitors to spend a night there. Remains of the penal colony can still be seen and visited at Ao Talo-U-Dang and Ao Talo Walo, two bays respectively situated to the south and to the east of Koh Tarutao.
The island and the 1,500sqkm Marine National Park were declared an ASEAN Heritage Park by UNESCO in 1982. The island is famous for its wild natural beauty, and instanced for its sustainability. Please also note that there's no worry: the large crocodiles are no longer roaming the swamps of Koh Tarutao…