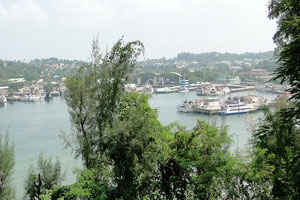 Situated on the east coast of the southern Andaman Island, Port Blair is the capital of the Andaman and Nicobar islands. Housing about 100 000 inhabitants, this typical Indian city is settled between sea and hills. Port Blair is a true melting-point that gathers many ethnicities: Tamouls, Bengalis, Nicobarese, Telagus and Burmese.
Port Blair doesn't feature an international airport but a military airport that receives commercial flights from both Kolkata and Chennai. On arrival, once the administrative procedure completed you will go to Port Blair's pier, the main hub from which depart most of the island-hopping cruises in the region. There, you will embark on S/Y Aventure for a memorable sailing cruise.
Getting to Port Blair by plane:
- From Calcutta : Air India / Jet Air / Go Air / Spice Jet
- From Chennai : Jet Air / Go Air /Spice Jet
Important: It is mandatory to have both a tourist visa for India and a travel permit for the Andaman and Nicobar Islands. You have to contact an Indian ambassy or consulate to get these documents.
Port Blair hotel: Sea Shell hotel Port Blair (http://seashellhotels.net/portblair/)